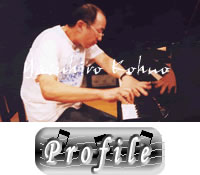 He is originally from Ikoma-city Nara-prefecture. He graduated Nara-Koriyama High school and now lives in Kokubunji-city, Tokyo. After high school he gets started playing piano. When he was 21-year-old, he dropped out Osaka Art University with his own will and has settled in Tokyo since then.
He started his musical activity as a keyboard player of Yazawa-Ekichi-Band.
After he played for some Japanese popular musicians, such as Masatoshi Nakamura and Yoko Seri, he has played as a Jazz pianist with Richard Davis and many other famous musicians.
Since 1991, being free from Jazz, he has been trying to find his own music style with a theme of "Nature".
His dynamic play, from Jazz standards to children's songs, and simple & gentle talks attracts many people, not only Jazz fan but also general people from children to aged. He hopes that everyone, who listens to his piano,feels fun and wonder of the music.
Since 1992, his project, "Waking up piano concert tour", which he has been carrying out as a part of environment conservation activity, has been focused on TV and newspapers. Through this activity, he has visited many houses and played pianos, which are not used any more, there.
Summer in 1995, for organising a network of purifying Yodogawa-river in Osaka. This unique Jazz Piano concert tour was held at 20 venues along the basin of Yodogawa-river.
In Feburuary/1994,95,96, He joined the Brussels-Piano-Festival held in Belgium.
In March/1996,97, He joined the Japan-Cultural-Festival held in South Africa. Thus he is now trying to widen his activities all over the world.
His main works are,
1.Sending pianos, which are not used in Japan, to the children in Africa and Asia.
2.Organising the activity to recycle dead/broken pianos.
3.Positively taking part in/organising the nature conservation programmes as a pianist.
CD works: a selection "Shimantogawa-river" , "Davis & Kono" and others